Heating and AC Unit Safety Inspections in Champaign, Illinois
Much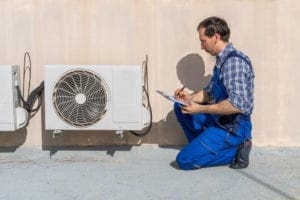 of the stress that we feel every day is our natural reaction to the unknowns in our lives. At Castle Home Comfort we are here to remove one more of these "unknowns" by providing comprehensive heating and AC safety inspections in the Champaign area. Knowing the condition and expected lifespan of your unit can give you the power to take action, save funds for expected repairs or replacements, and rest more securely without the anxiety that comes with not knowing. We are excited about our inspections because they are affordable and they allow us to care for our customers and tangibly improve their lives.
When Should I Have My HVAC Inspected?
While an inspection can be beneficial any time you feel you are lacking information about your HVAC system, there are certain times when it can be especially helpful.  Safety inspections can be performed each time the seasons change. In Champaign, we are lucky enough to enjoy four distinct seasons, with beautifully crisp and colorful falls, winter snowfalls, warm and sunny summers, and cool, rainy springs. This can also mean a distinct shift in usage between the furnace and air conditioner.
During these shifts, it is important to have your HVAC checked. Many homeowners schedule an appointment for their furnace in the fall, as well as an AC safety inspection in the spring. This way, each unit gets a full inspection before it begins to be extensively used. Inspections can also be done when you are selling your home, or when you are purchasing a new home so that you can assess the condition of the system.
What Is A Safety Inspection?
When our team at Castle Home Comfort does an HVAC safety inspection, we have four main goals that we work towards: Safety, Efficiency, Air Quality, and Function. We believe that neglecting any one of these essential goals can spell trouble for your system. We look over your whole system with these items in mind and then give the homeowner a full report. The specific checks that we perform will depend on the type of system that you have, but in general, we check for things such as frayed belts, wear and tear from friction, refrigerant leaks, loose electrical connections, faulty thermostats, gas leaks, cracked exchangers, high CO2 levels, and more.
A written report is an integral part of the process. At Castle Home Comfort, we make sure you understand the report by going through it with you, and we give you a copy so that you can have it for your records and refer to it for needed repairs. At the end of each AC and furnace safety inspection, we want you to feel confident in both your knowledge of your system and the next steps that you need to take to make sure your system is safe.
What Are the Benefits of a Safety Inspection?
While we have briefly touched on why safety inspections are necessary for your system, it is helpful to understand more about the benefits of a quality inspection. When you have your system inspected, you are investing in the future of your unit as well as the safety of your family. This is especially true if you are purchasing a new home. While an old HVAC system might not be a deal-breaker when shopping for a home, it is important to know exactly what you are getting into so that you can make a good decision and prepare for any future repairs or replacements.
The main benefit of a safety inspection is that you get the detailed information regarding the condition of your HVAC system and how this will affect your home during the year. If any part of your system, or the whole system, is unsafe to operate, it is good to know this information before it becomes a danger to your family. Inspections also include valuable information on what you can do to improve the efficiency of your system. They will tell if your unit is too big or too small, whether the hot and cold air is being properly distributed throughout the house, and whether any major repairs need to be done.
Inspections are also beneficial because they can give you more information on the type of maintenance services you will need in the future so that you can set up a solid plan with your HVAC company. Finally, inspections can help to extend the lifespan of your HVAC system. Good information means that you are more likely to care for your system by scheduling routine maintenance and repairs for small items that can escalate if not taken care of. Motivation to care for your HVAC system will also lead to cleaner air, fewer repairs, and more money in your pocket.
$79 Safety Inspections in Champaign, IL
At Castle Home Comfort, we are currently offering $79 HVAC unit safety inspections to our valued customers in Champaign. For the price of take-out for a family of four, you can have all of the knowledge that you need to make sure your HVAC system is safe, efficient, and in good condition. This is a valuable investment in your home's future and can be an important step in reducing your home's monthly costs. Contact us today for more information about our affordable inspections.
Happy Today Guarantee
We believe that what sets us apart in the HVAC industry is our absolute commitment to full customer satisfaction. Our Happy Today guarantee means that you won't have to pay for anything you are not 100% happy with. If you are not satisfied with your heater safety inspection or any other service, give us a call and we will come back to your home and do the work again. If you are still not happy, you get your money back.
However, our goal is always to get the job done right the first time. This starts with on-time service that our customers can rely on. When we schedule a time for our arrival, you can expect us to be there. We always take care of your home while we are there, and we make sure to protect your belongings during the inspection by covering them as needed. We will leave the area clean after we leave and we will always treat you with kindness and respect.
Choosing Castle Home Comfort
At Castle Home Comfort, we built our company from the ground up because we felt that there was a need in the community for a service provider that not only provided expert repairs and installations, but also courteous customer service, reliable advice, and straightforward prices. Four decades later, we are proud to say that we have become a pillar in the community that has a reputation for integrity, kindness, and service that goes above and beyond the usual expectations.
For all of our other repair and installation services, we charge one unchanging service fee of $109 or $89.00 after-hours for Club Members. It doesn't matter when you call us, you can rely on this pricing to stay the same. We are determined to never make a business from benefiting from the misfortune of other families in our community.
At Castle Home Comfort, we are here for you through all of your life changes, milestones, and obstacles. We want to make life a little easier for you by taking care of your HVAC safety inspections so that you can be sure of an accurate and detailed result. To take advantage of our $79 inspection special, call us today.
Contact 217-352-2800 and improve the air quality in your home today with our Champaign HVAC Inspection team.
24 Hour Express Service
We're Not Comfortable Until You Are
Emergency AC Repair and Furnace Service, you will get a live person on the phone 24/7.
Because we don't take your misfortune as an opportunity to make extra money the way some companies do.
Get the Royal Treatment

With Castle Home Comfort Heating & Cooling

100% Satisfaction Guarantee
Doing whatever it takes to make our customers happy.

Screened & Certified Technicians
All of our employees are background checked & drug tested.

Club Memberships Program
For only pennies a day you can protect your home.

Customer Focused Service
Our technicians top priority is getting the job done right.