Happy Today or You Don't Pay

Keeping Your Kingdom Comfortable All Year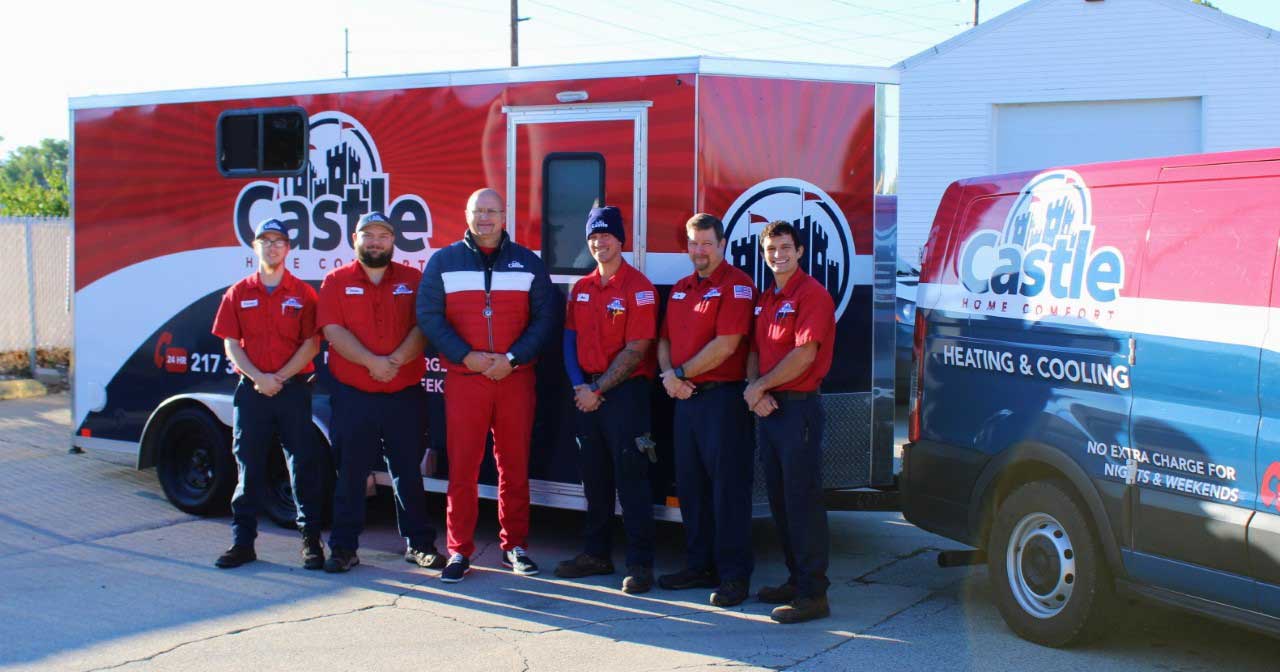 About Castle Home Comfort Heating, Cooling & Plumbing
The Name to Trust for Quality Heating & AC Services in Champaign
Castle Home Comfort Heating, Cooling & Plumbing opened its doors to provide Champaign County residents with the quality and affordable HVAC services they deserve. With management that has been in the business for 4 decades, we guarantee you'll be satisfied with our service.
Our family has experienced firsthand the subpar services of most contractors in the area at that time. Either the work was of poor quality or the customer service was impersonal. There were even times when the so-called professional tech would cancel the service call because they found a more profitable customer. This was not how we want to be treated, and we're sure it's the same for our neighbors. We knew we can do way better, and that was how our company came to be.
Today, you can feel confident knowing that you can count on Castle Home Comfort Heating, Cooling & Plumbing for all your heating, air conditioning, and indoor air quality needs. We will get a live person on the phone available 24/7, 7 days a week including holidays to ensure you and your family are safe and comfortable in your own home no matter what the temperature outside brings.
Same Rate All the Time Service Call
At this time we are also offering a special for $59 Safety Inspections, contact us now to book your safety inspection.
Your heater or air conditioner can break down at any time of the day or night. When this happens, it can be extremely uncomfortable, frustrating, and not to mention unsafe, especially for your children or elderly relatives. This is a misfortune that we would never want to happen to our own families, so why would we even dare ask you for additional fees? We are here to help you when you need us most. We are not here to make more profit out of an already miserable situation.
When you call us for any heating or cooling issues, whether it's already past midnight or early in the morning, our service rate is $89.00 after-hours for Club Members.
.
We Guarantee Your 100% Satisfaction
Castle Home Comfort Heating, Cooling & Plumbing is confident in the services that we provide and we stand behind our work with a 100% satisfaction guarantee. If you find yourself unhappy with the service that we provide, just let us know so we can redo the service to your satisfaction or return your investment.
We offer many written guarantees for service and replacement!
To learn more about the guarantees and services we offer, please feel free to contact our Champaign heating and air conditioning service company at (217) 352-2800.
24 Hour Express Service
We're Not Comfortable Until You Are
Emergency AC Repair and Furnace Service,  you will get a live person on the phone 24/7.
Because we don't take your misfortune as an opportunity to make extra money the way some companies do.
Get the Royal Treatment
With Castle Home Comfort Heating, Cooling & Plumbing

100% Satisfaction Guarantee
Doing whatever it takes to make our customers happy.

Screened & Certified Technicians
All of our employees are background checked & drug tested.

Club Memberships Program
For only pennies a day you can protect your home.

Customer Focused Service
Our technicians top priority is getting the job done right.